Camping & Camping Rules
Be sure you read this info before you arrive.
Entry
No valid 2019 CAMPING-ticket means you can't enter our camping site. Entry fee is 20 EURO for the weekend (1, 2 or 3 nights) per person and is NOT included in the festival ticket. Buy camping tickets in advance. Camping tickets are not sold separately!
Location and opening times
Camping opens Thursday: 18.00
Camping closes Sunday: 11.59
Festival doors Friday: 15.00
Festival doors Saturday: 11.00
Friday fest closing: 01.30
Saturday fest closing: 02.00
The Cockpit Stage opens Thursday: 18.00
The Cockpit Stage opens Friday: 11.00
The Cockpit Stage opens Saturday: 11.00
You can enter the camping 24hrs/24hrs
The campsite is located behind the festival ground and is big enough for all our visitors.
The festival takes place in a natural environment. Do not damage the surrounding fields and properties as this will jeopardize the existence of Groezrock. Keep the place clean, use the rubbish facilities. The local attendants will keep their eyes open.
100% FREE Camping parties
ALL Camping parties & "Shows" are at the "24u Zone". You can enter this 24u zone for free* (*Without a GROEZROCK ticket)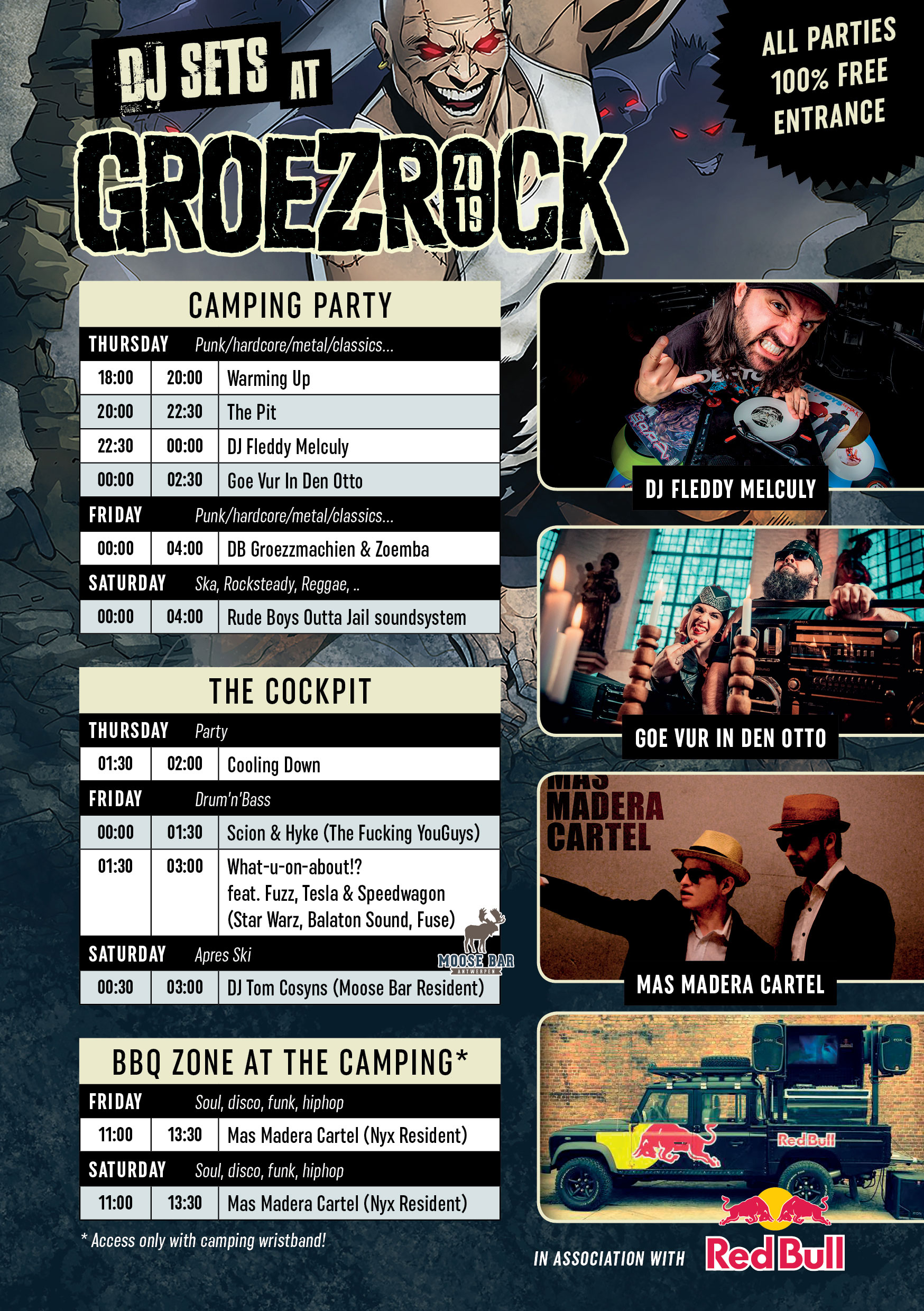 There is no entrance to the festival ground and/or camping without a valid GROEZROCK ticket
Facilities and prohibitions
Toilets, showers, fresh water, FIRST-AID post and facilities for wheelchair users.
Showers:

Thursday: 18u00 - 20u00
Friday: 08u00 - 14u00 / 16u00 - 20u00
Saturday: 08u00 - 14u00 / 16u00 - 20u00
Sunday: Closed

Entrances and exits:

Use indicated entrances and exits.
All tents must be set up in the marked spots. Fire lanes and emergency exits need to remain clear at all times. Tents placed on fire lanes or emergency exits will be removed.
Remember: Fire is a constant danger, especially when campsites are crowded.

Cooking and fires:

A special place for cooking with your butane gas will be provided.
Campfires, esbit fires, barbecues and gas burners with pierceable cartridges are strictly forbidden. Only small gas burners with a security valve cartridge are allowed.
FORBIDDEN: gas cartridge Campingaz C 206 filled with 190 g butane / propane (usable until -10°). Suitable for supplies for 206 equipment. Pierceable cartridge without a security valve.
ALLOWED: gas cartridge Campingaz CV 270, filled with 230 g butane / propane (usable until -10°). Suitable for supplies for 207 and 470 equipment. Cartridge equipped with a security valve.
Overview on what's allowed/forbidden (download) and a dutch version (download) - gas
FORBIDDEN / ALLOWED
Bonfires, campfires, torches, candles, fireworks and the burning of your tent at the end of the festival are strictly forbidden.
Beverages & food:

Cans and plastic bottles are allowed.
Glass bottles are strictly forbidden all over the camp and festival site.
Breakfast with tea or coffee will be served on Friday & Saturday from 08.00 till 12.00.
The camping bar will be open from early morning to late night.

Objects and behaviour not allowed:

No glass objects, no spades, no weapons, no drugs
No trading
Do not play loud music
Small generator units are not allowed at the campsite.
No grafitti. Control is very strict. If you get caught, you will have to pay for the damage immediately and head for home.
Catapulting any kind of object into the air will result in a fine and immediate removal of the entire festival site. PACK AND GO! Trespassers will be reported to the police.
No climbing of fences, toilets, tents, ...

Vehicles:

No vehicles allowed on the camping area.Trolleys, camp gear bagage trolley, shopping carts, wheelbarrows, push cart, car, camper, moto, caravan or other means of transport are not allowed on the camping site, unless you can fold it and store it in your tent. If you still decide to bring one of these they will be confiscated at the entrance. These objects can be reclaimed after the festival. 

GROEZROCK by car/moto:

Park your car at the Parking Area.
It's not allowed to sleep at the Parking area

GROEZROCK by camper, caravan, ... :

Park your vehicle at the Camper Area.

Animals:

No animals of any kind are allowed on the campsite. Stray dogs will be caught and owners will be fined 125 euros. Refusal to pay: dog will be taken to an animal shelter. Extra costs will have to be paid by the owners.
Breaking the rules
Rules guarantee smooth organisation. Breaking the rules may result in removal from the entire festival ground.
Permanent surveillance. Security has the final word.
Ticket will not be refunded.
Serious offenders will be reported to the police.
Keep in mind
Do not leave valuables unattended.
Camping is at your own risk. We can not be held responsible for accidents and theft.
Maps